Everylution creates function-rich websites for businesses, professionals, non-for-profit organizations, the government, or hobbyists.
We also provide a list of technical and professional services to our customers.
Independent of the industry in which you work, your website has to follow modern standards and guidelines. It should be secure, mobile friendly, optimized for search engines, and work across different browsers and platforms. The website should have a contemporary design and administrative tools that allow you to fully control the content without the need for a software developer.
Most importantly, the website should do exactly what you need and exactly how you need it to best perform within your business practices with analytics supplied to you on how to improve it.
Everylution creates brand new websites and also enhances existing systems. You may want to create a mobile version of your old website or add an online store. We will transfer your website to a new platform and preserve all existing articles, images, catalogs, user records, and other data.
In any case, you are creating something new and we are happy to assist you and build a new piece of technology for you and together with you.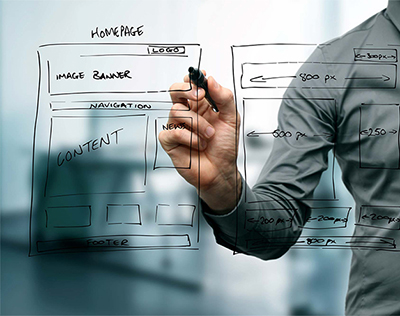 By Type And Functionality
Over the years we worked on many different types of web-based projects. To name a few:
Ecommerce. Online stores.
News and mass media
Subscription-based services
Online reservation systems
Company websites
Personal websites
Intranet systems
There is virtually no limit to what functionality your website can contain. Here are some of the features which can be implemented (in no particular order):
Online catalogs
Shopping carts
Credit card payments
Overbooking protection
Special promotional actions
Editorial systems
Customer relationship management modules
Reporting
Multilingual support
Online forums
Image galleries
Online surveys
Import and export of data in various formats PDF, MS Office, OpenOffice, XML, etc.
Integration with social networks, like Facebook or Instagram
Integration with special services, like Google docs, Mailchimp, and any other system which provides a public API.
There are many more functions which we can include on your website. Each can be implemented in a multitude of ways. Everylution's team will make sure that the result meets your requirements and is orchestrated to work in sync with your current business practices.
Automation
A website is not only a means of communications with your customers or partners, but it can also provide business automation. Everylution can implement complex workflows and help you automate routine tasks, optimize your content management practices, or improve your quality assurance.
Some samples of automation are:
Automated notifications for your customers by email or SMS
Scheduled publishing
Reporting
Integration with payment systems, like PayPal, Amazon Cart, or Google Wallet, including refunds processing or subscriptions cancellation
Mailing list management and integration with specialized mass emailing systems, like MailChimp.
Automated image processing
Extras
Even the best systems sometimes fail. It may happen due to hardware failure, a disaster, or hackers' attack. If downtime is critical for you, we can setup additional notification and recovery tools:
Monitor website's health
Implement Website Protection System
Setup additional backup systems
Involve Content Delivery Networks (CDN)